Birthdays are always special, but celebrating the birthday of someone truly special in your life calls for an extra thoughtful wish – Heart Touching Birthday Wishes for Special Person. Finding the perfect words to express how much they mean to you can be challenging. To help, I've crafted this list of 100 heartfelt birthday messages for that special someone.
Whether it's a romantic partner, best friend, family member, mentor or any other cherished person, these sincere wishes will touch their heart and remind them how valued they are. Read on for birthday inspiration that's both meaningful and memorable!
Sentimental Birthday Wishes for Your Special Person
1. My life is so much brighter because you're in it. Happy birthday to someone truly special!
2. They broke the mold when they made you. Wishing the happiest of birthdays to the most amazing person I know!
3. Your friendship means the world to me. I hope all your birthday dreams come true this year!
4. For all the joy you bring into my life, thank you. May your birthday be beautiful!
5. Thinking of you on your special day and sending lots of love your way. Hope it's a good one!
6. You deserve the best in life – which is why I know your birthday will be great! Have an amazing day.
7. This world became a better place the day you were born. Happy birthday to someone incredibly special!
8. I hope your birthday is full of sweet surprises and happy moments that remind you how loved you are!
9. You mean so much to me. Wishing you a magical birthday from start to finish!
10. Birthdays are a special time to celebrate someone unique and wonderful. I'm so glad you were born!
Romantic Birthday Wishes for Your Special Someone
11. My heart will forever belong to you. Happy birthday to the love of my life!
12. They say you only find true love once – and I'm so glad I found mine in you. Happy birthday!
13. Every day with you feels like the sweetest dream. Here's to celebrating the day my dream came true. Happy birthday!
14. You have my heart, always. Celebrating you today and every day, my love.
15. Loving you is the best thing that ever happened to me. Make a wish, sweetheart!
16. To the person who makes me smile wider than anyone else – happy birthday to you, my darling!
17. If I had one wish, it would be to spend all my birthdays by your side. I love you.
18. You're the brightest star in my universe. Make this birthday magical, my love!
19. Happy birthday to the most thoughtful, loving and caring partner. I'm the luckiest!
20. Every day with you is the sweetest gift. I love you more with each passing birthday!
Sweet Birthday Messages for Your Best Friend
21. I can't imagine my life without our friendship. Thanks for always being there! Happy birthday, bestie.
22. Friendship like ours is rare – and I'm so grateful to celebrate your special day! Wishing you joy.
23. You deserve a wonderful birthday this year surrounded by everything (and everyone!) you love. Enjoy!
24. Cheers to you on your birthday, bestie! I hope it's as fun and special as you are.
25. Here's to celebrating my confidant, fellow adventurer and favorite person! Happy birthday.
26. Thank you for the unforgettable memories. I can't wait to make more with you, birthday buddy!
27. I wish you a magical birthday, best friend! You make life an adventure.
28. You inspire me every day with your passion, creativity and determination. Happy b-day, friend!
29. Things I appreciate about you? Absolutely everything. Happy birthday to the world's best BFF!
30. Every birthday with you is my new favorite. Can't wait to celebrate this time!
Touching Birthday Messages for Family
31. Dad, your wisdom and strength inspire me daily. Happy birthday to my hero!
32. Mom, thank you for your endless love and support. I wouldn't be who I am without you. Happy Birthday!
33. Uncle, you've taught me so much about life, love and laughter. Happy birthday!
34. Grandma, you are the sweetest soul who always makes me feel loved. Have a wonderful birthday!
35. Sister, we've made so many fun memories together! Here's to celebrating your special day.
36. Brother, thanks for always having my back. Couldn't ask for a better sibling and friend. Happy birthday!
37. Mother-in-law, I'm so lucky to have married into such a loving, caring family. Happy birthday!
38. Father-in-law, wishing you the happiest of birthdays and years ahead! Love you.
39. To my favorite aunt – may your birthday be as delightful as you are! With love.
40. Grandpa, your zest for life is contagious. Wishing you all the joy in the world today! Happy birthday.
Inspiring Milestone Birthday Wishes
41. 30 is such an exciting age – enjoy it! Wishing you new adventures, growth and sweet surprises. Happy 30th birthday!
42. Welcome to your fabulous 40s! Hope this decade brings health, fulfillment and love. Happy 40th!
43. Cheers to 50 years! Here's to celebrating half a century of an amazing life. Happy birthday!
44. 60 is definitely something to celebrate! Enjoy this milestone year. Wishing you joy and wonder always.
45. Turning 70 means you've accomplished so much. I hope your birthday is as wonderful as you!
46. 80th birthdays deserve the biggest celebration. May this be your happiest and healthiest year yet!
47. Happy 90th birthday! What an amazing blessing to celebrate nine decades of life.
48. 100 never looked so incredible. Enjoy this monumental birthday – you supercentenarian, you!
49. A century of life experience to your name – that's truly something special. Happy 100th birthday!
50. Cheers to you on your 105th trip around the sun – how wonderful! Sending you all my love.
Funny Birthday Messages to Make Them Smile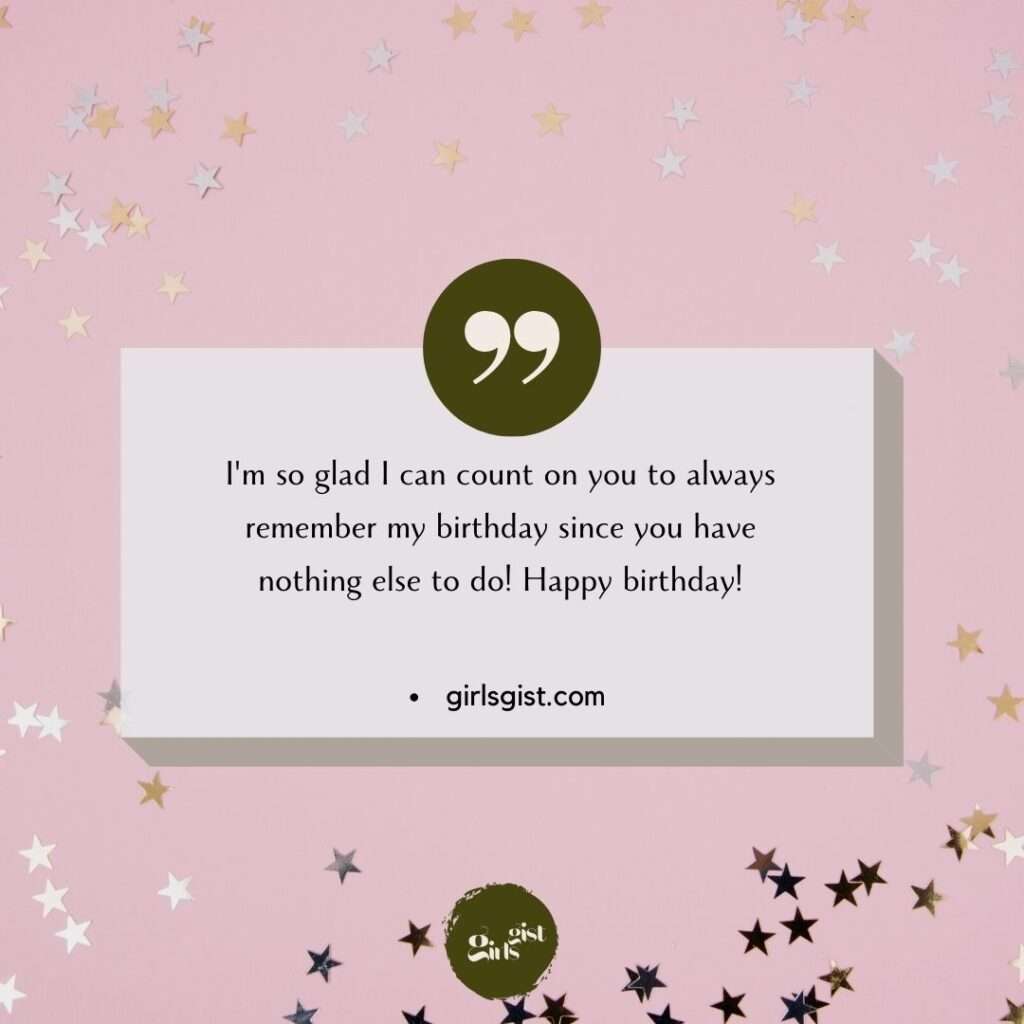 51. Happy birthday! Don't worry about getting older – you'll always be young at heart. Right?
52. Birthdays are natures way of telling us to eat more cake. Dig in, it's your day!
53. Better schedule that birthday nap now before you get too old – retirement is just around the corner!
54. Hope your birthday is fun, even if I have to explain what fun is to you now – you old timer!
55. I'm so glad I can count on you to always remember my birthday since you have nothing else to do! Happy birthday!
56. Wishing you all the best things in life on your special day – like comfortable shoes and soft foods!
57. Don't worry, I won't forget your birthday! I know how much you love celebrating still being alive.
58. Hope you get to do all your favorite things today – like puzzles, bingo and complaining about your back!
59. Happy Birthday! Watch out making wishes when you blow out your candles. Don't want to break a hip!
60. I got you a walker for your birthday so you can boogie on down more easily! Happy birthday, you party animal.
Heartfelt Birthday Wishes for Your Mentor
61. Thank you for inspiring me and helping me grow. Wishing you all the best on your birthday!
62. Your guidance has made me wiser and given me confidence. I appreciate you. Happy birthday!
63. I hope your birthday is as amazing as you are. Thanks for always pushing me to better myself!
64. Wishing endless joy to the person who has taught me so much. May all your dreams come true!
65. You've shared your knowledge to help me succeed. I can't thank you enough. Happy birthday!
66. I'm blessed to have someone as thoughtful and wise as you in my corner. Enjoy your special day!
67. Your wisdom lights up my path and motivates me. Here's to celebrating you today! Happy birthday.
68. Thanks for inspiring me and being a role model. Wishing you a fantastic birthday!
69. I admire you so much – your strength, kindness and guidance. Cheers to you on your birthday!
70. You've helped me grow and achieve my goals. I appreciate you more than words can say! Happy birthday.
Birthday Quotes Adding Meaning to Your Message
71. "May your birthday be filled with wonder and magic!" – J.K. Rowling
72. "A birthday is a new beginning." – Todd Stocker
73. "May this year exceed your dreams." – Unknown
74. "Wishing you nothing but happiness." – Unknown
75. "I wish you to see the whole beauty of life." – Fyodor Dostoyevsky
76. "Count your life by smiles, not tears." – Unknown
77. "May this day shine eternally in your heart." – Unknown
78. "Smile like it's your birthday every day." – Unknown
79. "You don't look a day over fabulous." – Unknown
80. "May this year be your best one yet." – Unknown
See also: Angel Number 888 Means
Uplifting Spiritual Birthday Blessings
81. I pray God fills your life with joy, purpose and blessings on your birthday and forevermore.
82. May your heart become a dwelling place for God's love and peace. Happy birthday!
83. On this special day, I pray your faith is strengthened to move mountains. God bless!
84. May God's light guide you and keep you safe. Wishing you a blessed and beautiful birthday.
85. Sending up birthday prayers for your happiness and health. God is with you always!
86. I pray this year brings you closer to God and fills your soul with calm. Happy birthday!
87. May His joy lift your spirit higher and His love wrap you in warmth. Blessed birthday wishes!
88. Here's praying this birthday opens new doors for you and renews your spirit.
89. May blessings rain down on you, not just today but every day. Happy birthday!
90. Lifting up thanks for your life and asking God to bless you abundantly today and beyond!
Short and Sweet Birthday Greetings
91. Wishing you a perfect birthday – enjoy!
92. Have a wonderful birthday week!
93. Happy birthday – you deserve the best!
94. Birthday blessings coming your way!
95. Wishing you a special day from beginning to end.
96. Hoping your birthday is simply the best!
97. Cheering for you today on your day!
98. Have the happiest birthday ever!
99. Here's to you on your day – yay!
100. Celebrating your special day in a big way!
See also: What are Angel Numbers?
Every birthday marks an important new beginning, but some people's birthdays are extra special. With this list of 100 touching birthday wishes, you can find the perfect message for the cherished people in your life. Whether your recipient needs an inspirational quote, funny quip, sincere message or spiritual blessing, these heartfelt birthday sayings have you covered. When celebrating someone special, choose a wish that truly resonates.