Turning 80 is an incredible milestone worthy of celebration. For your loved one's big 8-0 birthday, make it special with these heartfelt messages and wishes. These 80th Birthday Wishes will help you share the most heart-felt messages with your loved ones.
An 80th birthday marks an amazing accomplishment. At 80 years old, a person has gained decades of wisdom and life experience. They have countless memories and stories to tell.
With these 100 birthday wishes for someone turning 80, you can make their 80th birthday memorable. Find sweet, funny and touching messages to write in a card or say out loud.
Happy 80th Birthday Wishes for Friends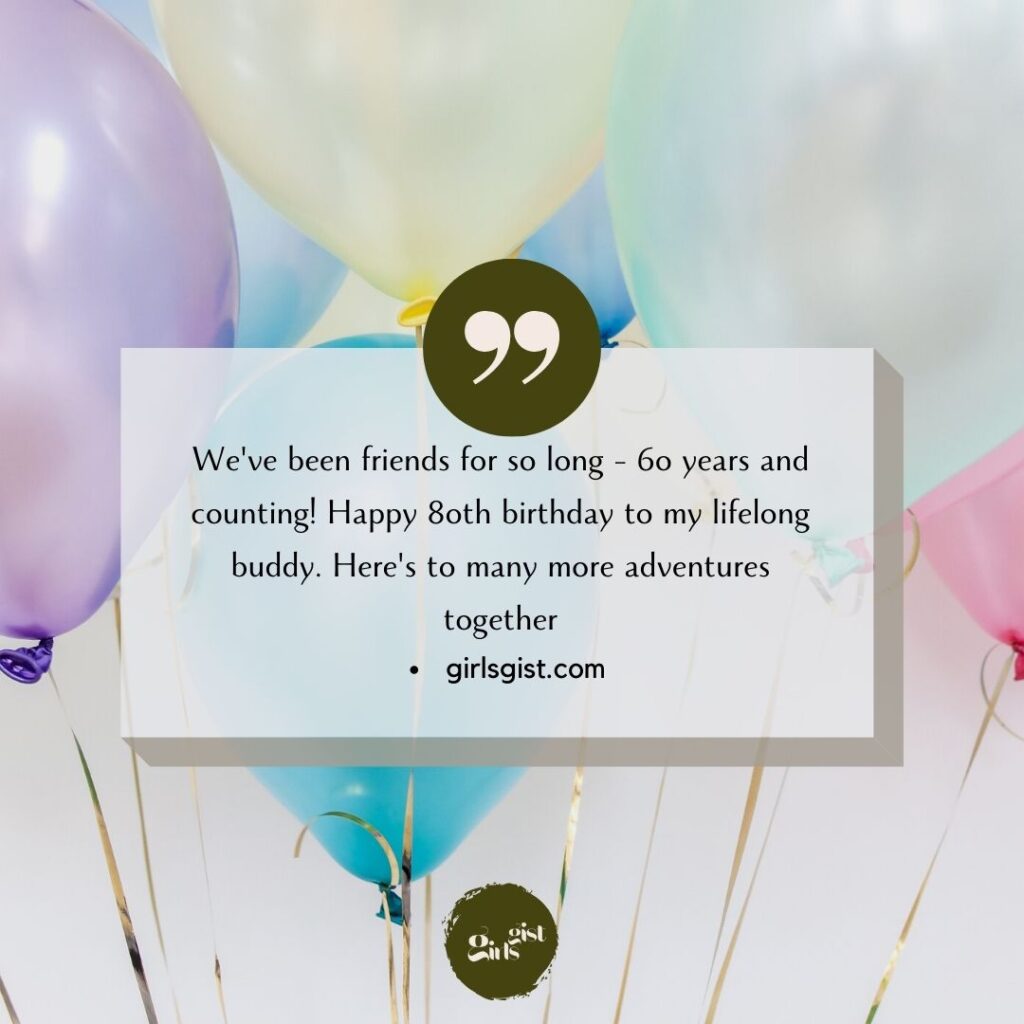 We've been friends for so long – 60 years and counting! Happy 80th birthday to my lifelong buddy. Here's to many more adventures together.
Can you believe we met 80 years ago? What a blessing our friendship has been. Happy 80th! Here's to 80 more years of laughter and memories.
To my favorite friend who makes me smile every single day – wishing you the happiest of birthdays as you turn 80!
80 years down, forever more to go! Happy birthday to my dear friend. I treasure the special bond we share.
I'm so lucky to have a friend like you. Happy 80th birthday! You're as young at heart as ever.
Loving 80th Birthday Messages for Your Grandma or Grandpa
Grandma, your love has carried me through life. Happy 80th birthday to my guiding light. I love you so much.
To the world's best grandpa on your 80th – thank you for always sharing your wisdom and being someone I can count on. Love you!
Grandpa, you've accomplished so much in 80 years. Happy birthday! Thank you for inspiring me every day.
Happy 80th birthday, Grandma! Every moment spent with you is a precious gift. I love you more than words can say.
To my grandma on her 80th – you've been a role model to me since I was a little girl. Here's to celebrating you!
80th Birthday Wishes for Mom or Dad
Happy 80th to the best mom ever! Thank you for always believing in me. I love you more and more each year.
Dad, for 80 years you've loved me unconditionally. I'm so grateful to call you my father. Happy birthday!
Mom and Dad – 80 years old and still as in love as ever! Wishing you both a special day. Love you!
You're 80 years wise today, Mom! Thank you for sharing your love, strength and guidance all these years.
Dad, your patience, wisdom and care have shaped me immeasurably. Happy 80th birthday – you deserve the best day ever!
Funny and Lighthearted 80th Birthday Messages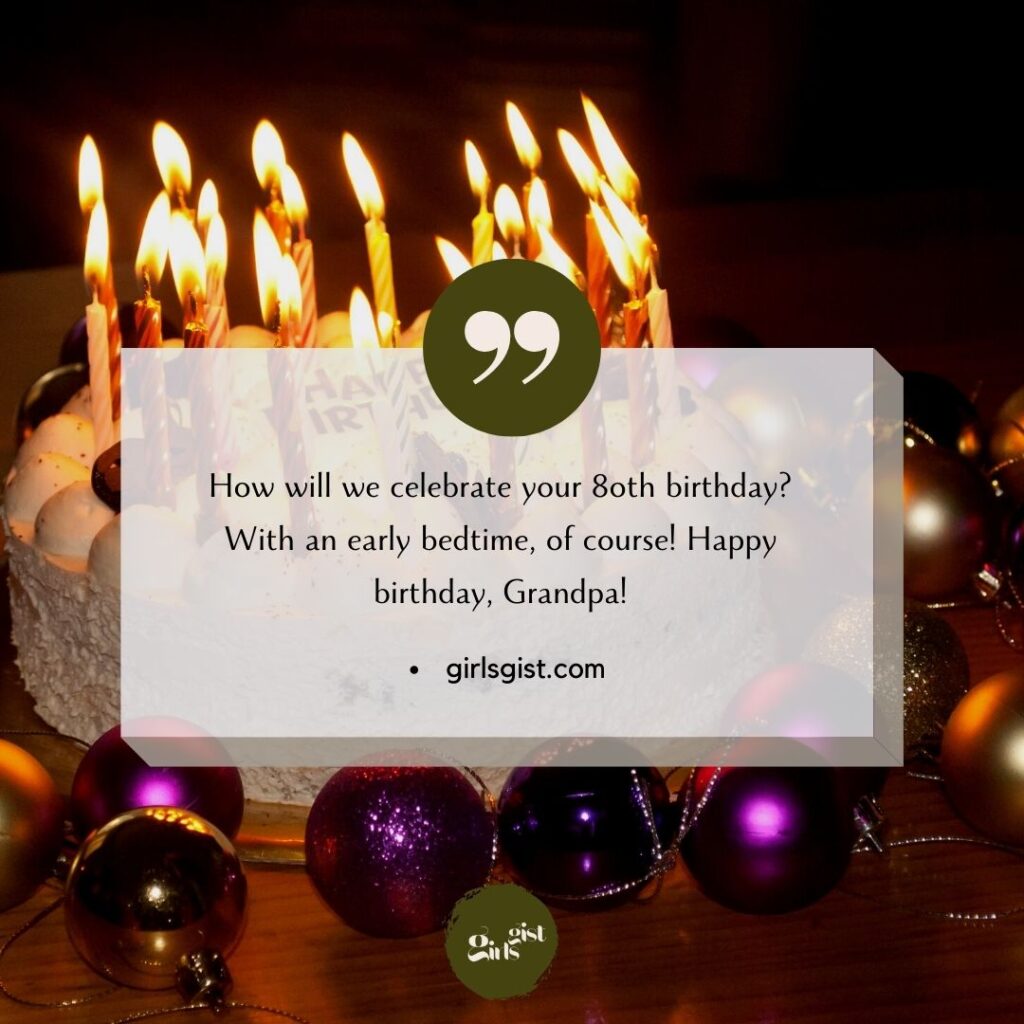 80 years old – now that's a lot of candles for one cake! Happy birthday, you old geezer.
How will we celebrate your 80th birthday? With an early bedtime, of course! Happy birthday, Grandpa!
Happy 80th to the coolest old lady I know! Age is just a number when you're as young as you.
Now that you're 80, be sure to ask for the senior discount everywhere we go! Happy birthday!
80 years old and still as youthful as ever. What's your secret? Wishing you a spectacular birthday!
Uplifting 80th Birthday Wishes
80 years of life experience to guide you – now is the time to write your next chapter. Happy birthday!
May your 80th year be overflowing with joy. Here's to embracing today and every new adventure!
Wishing you sunshine, love and new beginnings on your 80th birthday and always!
80 years down and your best is yet to come! Make this upcoming year your greatest ever. Happy birthday!
Today is the first day of your 80s – hope it brings you endless smiles and miles of happiness.
See also: Angel Number 888 Means
Sentimental 80th Birthday Messages
Reaching 80 years is an amazing accomplishment – I'm so proud to celebrate you today! Happy birthday!
I feel so blessed to know someone as special as you. Wishing my favorite person a very happy 80th birthday!
Thinking of you on this milestone day and hoping your 80th birthday is as wonderful as you are.
To my favorite person: 80 years of life has made you wiser, stronger and more loving. Celebrate who you are today. Happy birthday!
You inspire me every day with your grace, wisdom and kind spirit. Wishing you a beautiful 80th birthday.
Religious 80th Birthday Blessings
Wishing you a beautiful 80th birthday. May God's blessings follow you all the days of your life!
May God bless you with good health, much joy, and His everlasting love. Happy 80th birthday!
On your special day, may God guide your heart with His wisdom and care for you always. Happy 80th birthday!
As you celebrate 80 amazing years, may you feel God's love surrounding you. Happy birthday!
God has blessed you these 80 years, and will continue to bless you all your days. Happy birthday!
Happy 80th Birthday Quotes for Loved Ones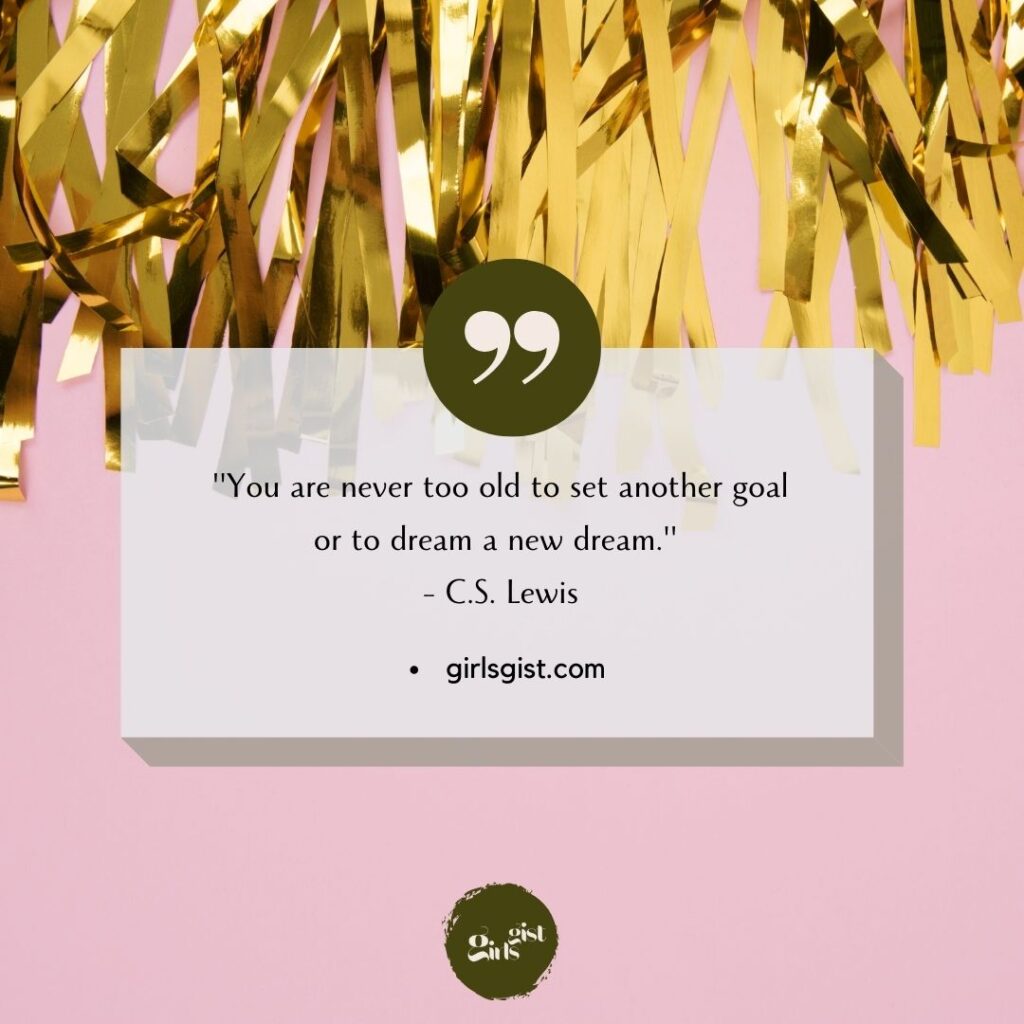 "Age is a case of mind over matter. If you don't mind, it don't matter." – Satchel Paige
"You are never too old to set another goal or to dream a new dream." – C.S. Lewis
"None are so old as those who have outlived enthusiasm." – Henry David Thoreau
"You can't help getting older, but you don't have to get old." – George Burns
"The greatest wealth is wisdom." – Virgil
80th Birthday Hashtags and Instagram Captions
Wrinkles just mean you laughed a lot! #ThisIs80 #80years #birthday
Feeling fab & grateful at 80! #80thBirthday #AgingGracefully
80 & still rockin'! ???? #ThisIs80 #birthday #80yearsYoung
Cheers to 80 years! ????#80thBirthday #80YearOld
80 years loved! ??????#birthday #80yearsOld
See also: What are Angel Numbers?
As you can see, this collection covers heartwarming, funny, uplifting and thoughtful 80th birthday wishes for the special 80-year-old in your life. There are sweet messages for your grandma, grandpa, mom, dad, friend or loved one turning 80. You'll also find inspirational quotes and social media captions to celebrate their big day.
With a full 80 years of life experience, an 80th birthday is truly momentous! This blog post honors that, while also highlighting the wisdom gained, memories made and good times still to come for the birthday boy or girl. It's the perfect resource for making their 8-0 birthday extra special!